Palazzo Mannocchi is composed of 32 bedrooms , 16 bathrooms and numerous saloons , terraces and 7 kitchens There is swimming pool and 2 giant hot tub jacuzzi's as well as a sauna . With over 2500 square meters of living space the palace is divided in such a way that families , couples and single people can have their independent accommodation and yet still be together in a one unit property. The town surrounds the palace with all its services which enables guests to choose their activities benefiting the proximity and also the possibility of not having to use the car for every necessity .Being in the world of Fine Art and Antiques it is our pleasure to have guests enjoy the collection and maybe embrace the passion that has illuminated our lives for many years .


Palazzo Mannocchi e composto da 32 camere da letto, 16 bagni e numerosi saloni e terrazze , una piscina , 2 jacuzzi e una sauna . Ci sono 2500mq di interni. La proprietà e divisa in modo in cui le famiglie , copie e persone singole possono avere la loro privacy e essere in una unica proprietà.
Il paese che circonda e munito di tutti servizi come negozi , farmacia , bar ,ristoranti banche a pochi passi dal palazzo .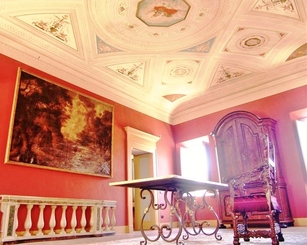 Main Grand Saloon, Persian carpet, Florentine Intarsiato Table 18th century ,Old master paintings , 18th century Frescoed ceilings , 18th century Flamish cabinet , 16th century armchairs , concert pianoforte.
---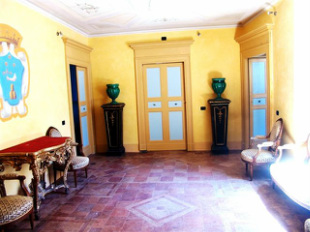 Entry hall of floor of noble floor , 18th century Roman Baroque sculptured console, Empire colons, terracotta floor, French saloon Luis XV, fresco ceilings.
---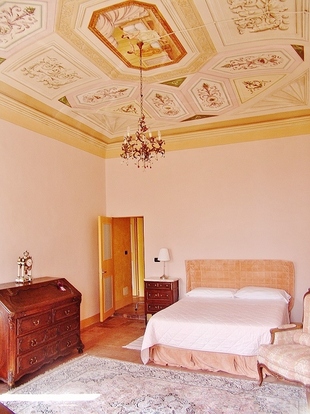 Double bed bedroom of independant wing of 2 bedrooms bathroom , kitchen and arched terrace loggia . 17th century writing desk, marble clock pendule ,Empire side table, 19th century arm chairs, Napoleon III desk , silk carpet , 18th century frescoed ceilings .
---









Single room . Napoleon III mahogany boat bed , Empire arm chairs , Lacquered Luigi XV console, 18 century wooden fireplace with mirror. Frescoed ceilings mythological theme . Windows with view
---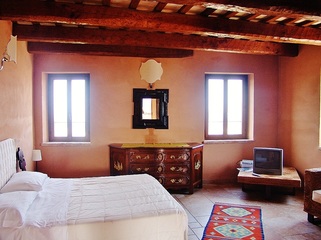 Double bed bedroom of independent unit with 2 bedrooms , kitchen and terrace , 18th century chest of draws with bronze applique ,cilim carpet ,19th century burled walnut wardrobe , Pair of Italian Renaissance side chairs, 3 windows with extreme views.
---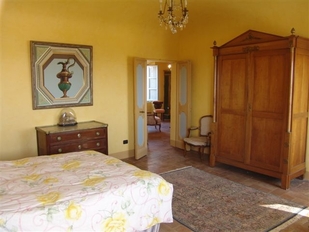 Double bed bedroom of 3 bedrooms wing with bathroom saloon and rose garden terrace with swimming pool , Napoleon III wardrobe,19th century old master painting , Empire Period mahogany chest, Empire arm chairs, Persian carpet , Mosaic shell inlaid mirror, 19th century bed frame, Empire style side tables ,19th century crystal chandelier.
---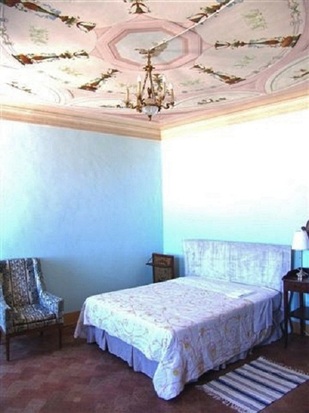 Double bed bedroom of 2 bedroom apartment with 2 bathrooms and terrace , Frescoed ceilings, crystal chandler, Louis XV Berger chair, dressing table, Napoleon III chairs Regency Period walnut wardrobe,
---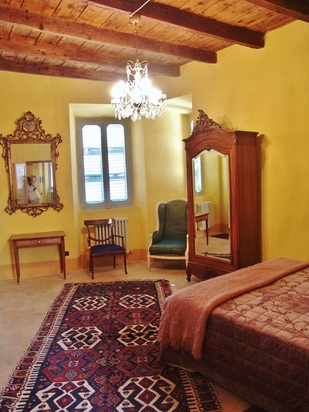 Double bed bedroom of 2 bedroom apartment with bathroom and kitchen, Crystal chandelier, Cilim carpet , 18th century Neapolitan sculptured chairs , French berger sofa , 19th century Provence wardrobe, Italian 18th century mirrors. American size bed.
---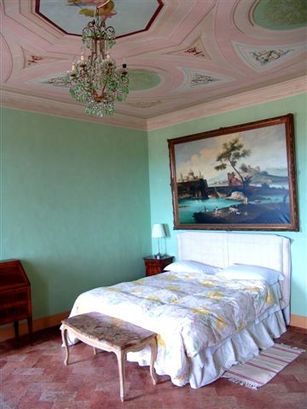 Double bed bedroom. Empire chest of drawers,lacquered side table with marble top ,19th century desk, Napoleon III gueridon table , Pastoral scene old master painting.
---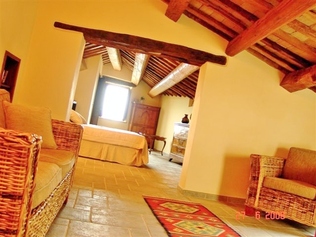 Independent double bedroom with saloon and bathroom with pool terrace ,open beams, Louis XVI secretaire , Restoration period mahogany chest of drawers , XIX'th century book case , TV, Martins style side table . Louis XV chest ,Windows with extreme views.
---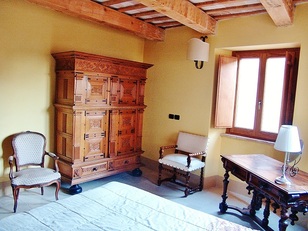 Bedroom with double bed . Dutch 19th century sculptured cupboard, 19th century sculptured writing desk, 18th century armchairs , Trani stone floors , two windows with view of the Bell tower square .
---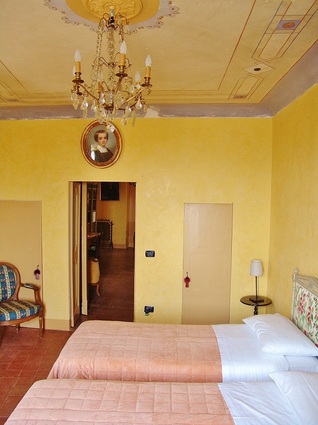 Two single bed bedroom of independent unit with balcony saloon bathroom and kitchen. French crystal chandelier,18th century frescoed ceiling of neo-classic theme, Louis XV'th arm chairs , terracotta floors,Kilim carpets, carved Louis XV writing table , gueridon lacquered table, Gouache paintings. Balcony with view.
---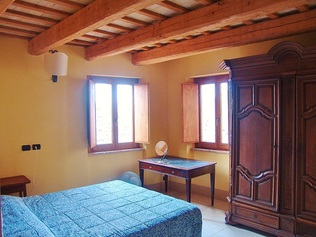 ---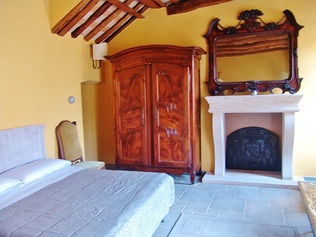 Double bed bedroom with balcony overlooking the town and country .Regency Provence wardrobe,Victorian mirror, travertino stone fireplace, Louis xvi chairs, writing desk , intarsiato table .
---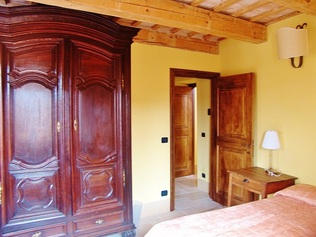 bedrooms with two single beds with own kitchen and bathroom. Open beam ceilings,venetian stucco , regency furniture , convent desk . Berger chairs ,neo-gothic trunk.
---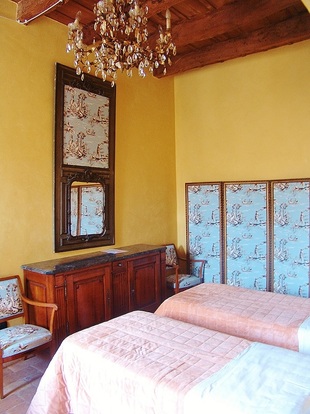 Bedrooms with two single beds of independent floor with 3 bedrooms , saloon , bathroom and sauna . Ornamental writing desk,Empire style chairs,Sorrento turn table art
deco lamps , chandelier, and venetian stucco,
Persian cilim carpets.

---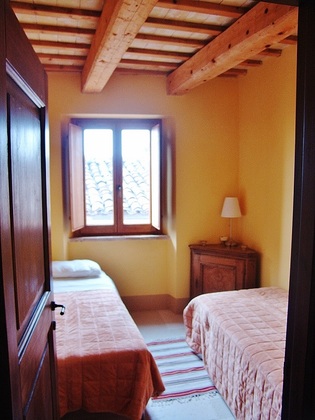 Bedrooms with 2 two single beds of independent unit with 3 bedrooms , bathroom and panoramic terrace with jacuzzi . Room
furnished with antique furniture and restored open beam
ceilings , underfloor stone heating , venetian stucco.
---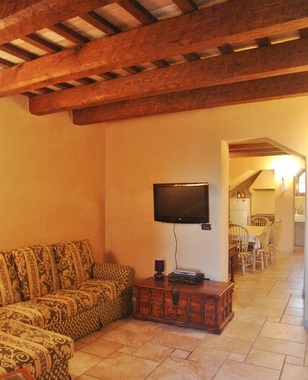 Saloon and kitchen of independent unit of 3 bedrooms ( 2 bedrooms with 2 single beds and 1 double bed bedroom) bathroom , saloon and kitchen.
---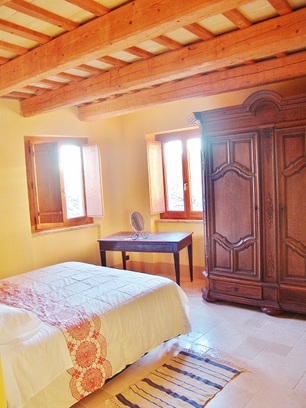 Double bed bedroom of independent unit with 3 bedrooms , bathroom , terrace. 18th century Flemish wardrobe , English 19th century writing desk, sofas . 3 windows with view .
---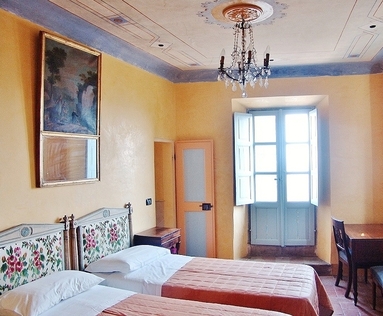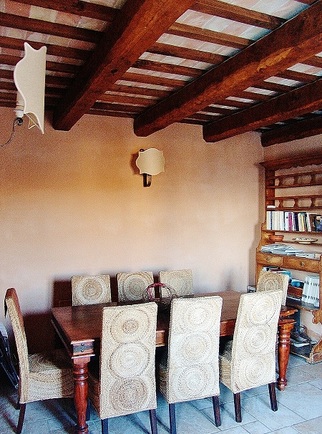 ---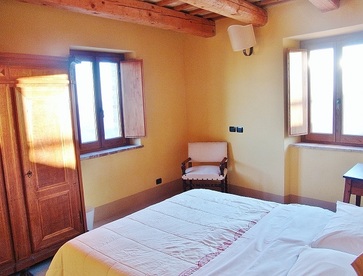 ---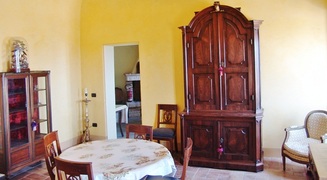 ---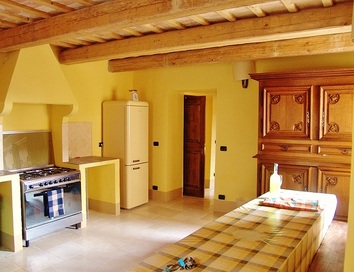 ---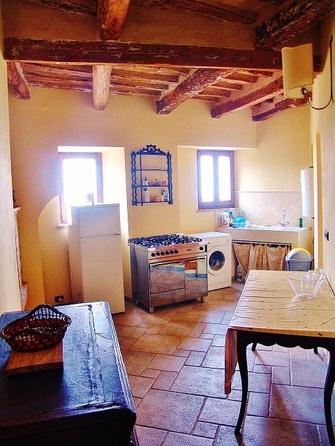 ---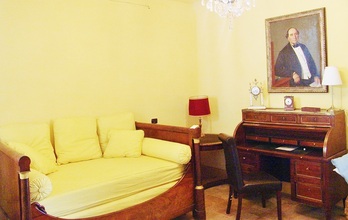 ---
---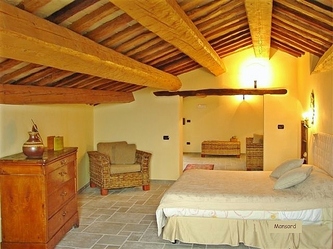 ---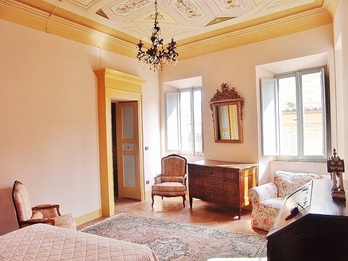 ---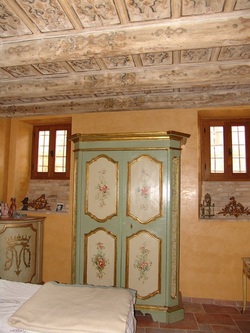 Palazzo Mannocchi , Largo Leopardi 13 , 63848 Petritoli (FM) Italy:Tel +39 3395026017
e-mail feridalus@palazzomannocchi.com